TUI Academy Thailand launched by the TUI Care Foundation, Plan International and Defence for Children ECPAT in collaboration with ROBINSON Khao Lak. The Initiative offers high quality education, work experience, child protection and life skills coaching for a brighter future to disadvantaged young people.First cohort of students now graduated after a year of training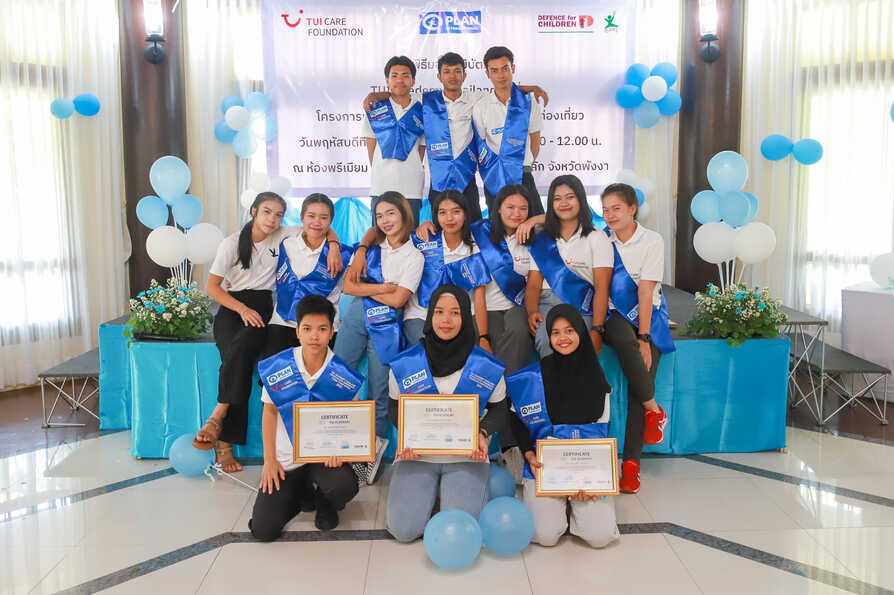 The first cohort of students is celebrating their graduation from the TUI Academy in Thailand. The programme was set up to offer vocational training and access to high quality education for young people in Thailand. It also tackles the country's high rate of youth unemployment and helps to ensure that children and young people are protected in the workplace. The initial stage of the programme been a resounding success, with the first cohort of students now celebrating their graduation from the TUI Academy in Khao Lak.
The TUI Care Foundation, Plan International and Defence for Children-ECPAT in collaboration with ROBINSON Khao Lak have officially launched the TUI Academy in Thailand. The programme provides education and vocational training for vulnerable young people, and young women in particular. It opens the door to more opportunities and a career in tourism.
TUI Academy: life skills and practical training
The three-year project combines life skills training, vocational training and practical experience to support 150 disadvantaged young people (aged between 18 to 24 years, at least 60% women) in building a career in the growing Thai tourism sector. Students can choose an area of expertise: Food & Beverage, Hotel Housekeeping or Chef Assistant. Professional and life skills are offered during the first three months of training, including personal development, English language skills and entrepreneurship expertise. The students then undertake a three-month internship at the Robinson Khao Lak Resort and other hotels.
Tackling child labour and youth unemployment
The project takes place in the Phang Nga province, next to Phuket province. Both provinces are high-risk areas for child exploitation in the labour market. So the programme also provides age-appropriate life skills training to 150 children aged between 5-17, to strengthen their self-esteem and reduce their vulnerability to exploitative situations.
First TUI Academy Thailand graduates
The first TUI Academy Thailand graduates celebrated their success with a graduation ceremony in March and 14 students are now ready to advance their career in the tourism industry. Their hard work and dedication has strengthened their resilience and capacity with a TUI Academy certificate on the CV, they are better equipped to enter the job market.
Collaboration between diverse stakeholders
As part of the multi-stakeholder collaboration, participants from tourism business, NGOs and local government will also participate in workshops and conferences to ensure that due diligence processes are implemented to protect children and young people from sexual exploitation within the tourism industry, including the online risks to children.
The TUI Academy in Thailand is part of TUI Care Foundation's Enabling Education Initiative and offers vocational education and sustainable career opportunities to young people from vulnerable communities. With a combination of theoretical education and life skills coaching, the programme focusses on the potential of tourism as an established driver of global job creation and growth. The TUI Academy Thailand is one of the eight academies currently running worldwide.
The TUI Academy Thailand is co-financed by the Netherlands Enterprise Agency (RVO) Fund against Child Labour, commissioned by the Netherlands Ministry of Foreign Affairs.